Simplicity marks the origin of Banff—Canada's first national park. In 1883, on the slopes of the Canadian Rocky Mountains, three railway workers discovered a natural hot spring, and from there the park was born. Nowadays, Banff is one of the world's premier destinations, spanning a region of unparalleled majestic mountain scenery. Every year, millions of visitors make the pilgrimage to Banff to take in its stunning views and arsenal of activities.
Cave and Basin Hot Springs is now a national historic site that offers a high-definition movie, living history activities, a ranger-led biodiversity experience in the surrounding marshlands, and an evening lantern tour. It's no longer possible to take a dip in the soothing waters, but just 10 minutes away is Banff Upper Hot Springs, a modern spa with outdoor pools, changing rooms, and a café.
Banff village has evolved from a whistle-stop into a thriving year-round resort town with hotels, restaurants, art galleries, and outdoor adventure outfitters. Lodged inside a mock-Tudor building, Banff National Park Visitor Centre has everything you need to know about places, activities, road conditions, and weather in the park.
Two blocks down the main street is the Banff Park Museum National Historic Site, which doubles as a rustic architectural wonder and storehouse of Victorian-era zoological, botanical, and geological specimens. The nearby Whyte Museum of the Canadian Rockies specializes in regional art and architecture, including paintings, sculptures, photography, and heritage homes on display in the gardens.

Outdoor recreation of one sort or another surrounds the village. Laid out in 1911, the public nine-hole Banff Springs Golf Club takes full advantage of its location in the Rockies with epic mountain views and fairways along Bow River. Along the river's north bank, the Banff Legacy Trail (16.65 miles) between Canmore town and Banff village is just one of the park's many scenic cycling and mountain biking routes. Bow River between Lake Louise and Canmore offers plenty of scope for fly-fishing, self-guided kayaking, and guided float trips of the type offered by Rocky Mountain Raft Tours.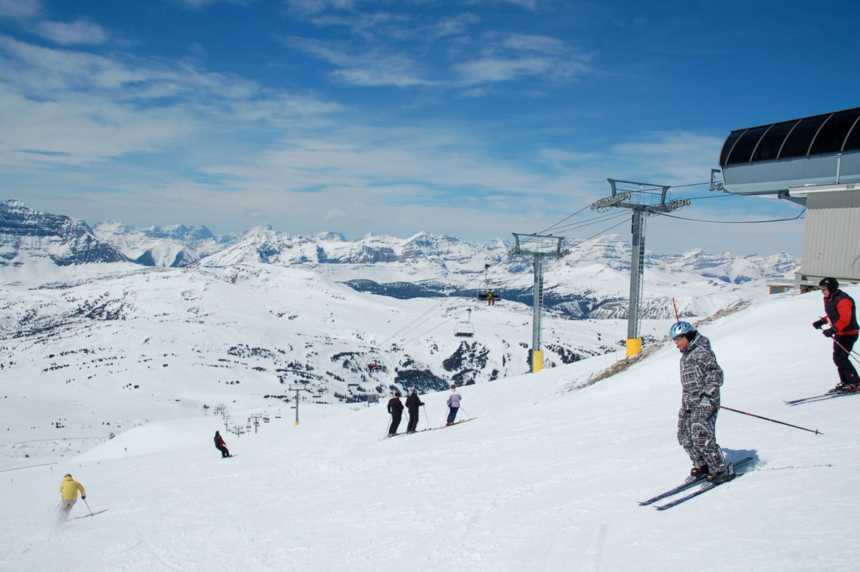 Towering high above the village, Mount Norquay provides skiing, snowboarding, and tubing in winter; hiking and biking trails; a via ferrata rock climbing route; and chairlift flightseeing in summer. Just 20 minutes outside town is Lake Minnewanka, a long fjord-like body of water with plenty of options to get wet, including swimming, kayaking, fishing, motor boating, or even scuba diving the ruins of a sunken village. One-hour scenic boat tours cruise the lake to Devil's Gap.
An hour farther up the Bow River Valley via the Trans-Canada Highway is drop-dead-gorgeous Lake Louise. Named after Queen Victoria's fourth daughter, the stunning alpine lake is a bit cold for swimming but ideal for paddle sports in summer or lake fishing and ice-skating come the winter freeze-over.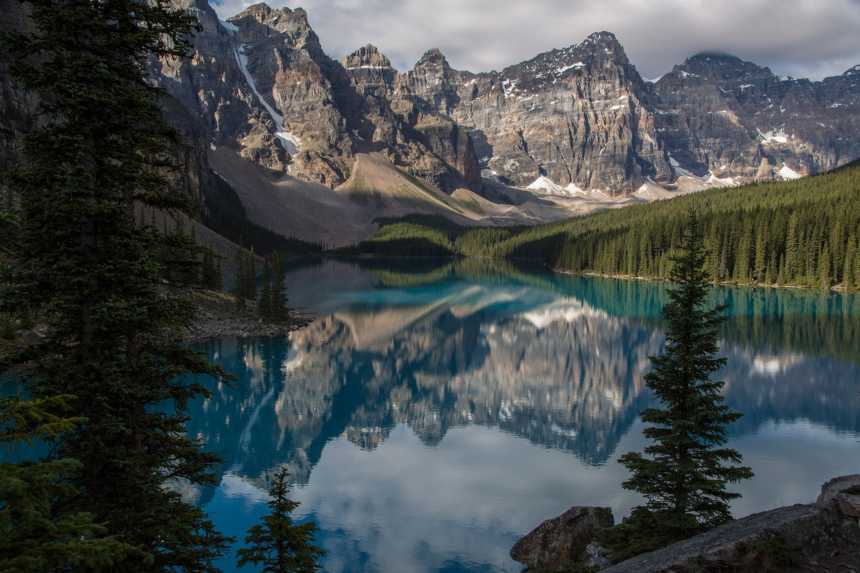 Looming above the east shore is the historic Château Lake Louise, opened in 1911 and still Canada's ideal national park lodge. Afternoon tea in the lounge—with huge picture windows overlooking the lake—is a long tradition. Of the area's many hikes, Plain of the Six Glaciers Trail is the most popular, a (8.1 mile) round loop along the lakeshore and up a glacial valley, with a chance to sip at the log cabin Lake Agnes Tea House located on the mountainside.
Brewster Stables organizes summer trail rides to the teahouse, as well as a full-day expedition ride up to Paradise Valley and winter horse-drawn sleigh rides around the shore. Another way to discover the lake area is by the private guided hikes offered by Great Divide Nature Interpretation. Themed treks revolve around glaciers, grizzlies, birding, autumn leaves, or dozens of other topics.
Down in the village, Lake Louise Visitor Centre offers another chance to fetch information, brochures, maps, and books about the park. Clinging to the eastern side of the valley is Lake Louise Ski Resort, which sets itself apart from other winter sports resorts in the region with activities like Torchlight Dinner and Ski evenings, a spring music festival, guided snowshoe tours, and backcountry ski tours.
Just north of Lake Louise, the Trans-Canada Highway veers off to the west and into British Columbia. But another famous roadway continues north along Bow River: the celebrated Icefields Parkway (Highway 93), which meanders 167 miles through the heart of the Canadian Rockies to Jasper. Flanked by rivers, waterfalls, snowy peaks, and more than a hundred glaciers, the route offers plenty of reasons to pull over, snap a photo, take a short walk, or simply take in views of nature's splendid canvas.
Bow Lake is a great place to pause, for a peek at historic Num-Ti-Jah Lodge or a hike along the Bow Glacier Falls Trail (5.78 miles round-trip) to the namesake cascade fed by meltwater from Wapta Glacier. The parkway reaches its highest point at Peyto Lake, with its jaw-dropping views back down the valley. Another waterfall tumbles through the slot canyon at Mistaya before the parkway leaps across the Saskatchewan River at a place called the Crossing, which marks the halfway point between Banff and Jasper villages. Fifty kilometers (30.1 miles) farther up the parkway is Columbia Icefield and the start of Jasper National Park.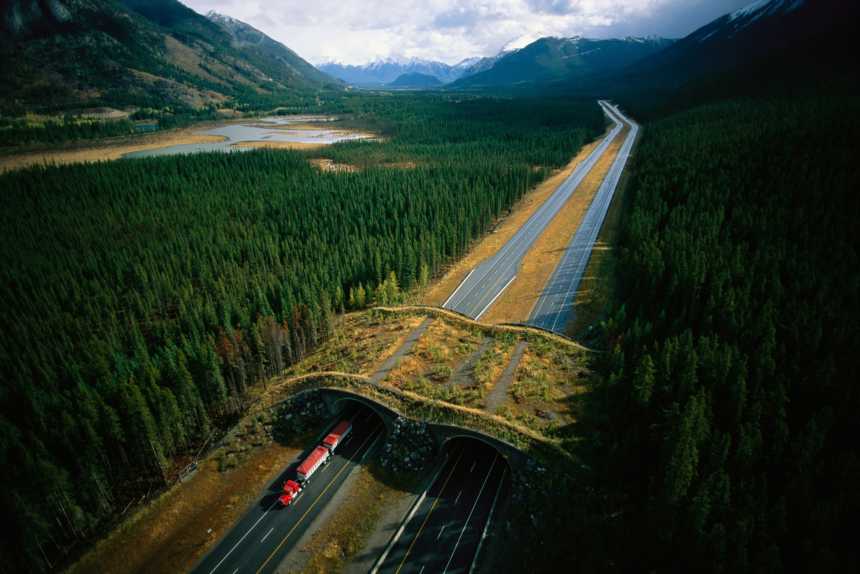 Plan your trip
Get there: Banff National Park is located 80 miles west of Calgary. Calgary's international airport is serviced by major national and international carriers with multiple flights arriving daily. From the airport, rent a car and take Trans-Canada 1 west from Calgary straight into the park, through Banff and Lake Louise. A direct bus service from the airport or downtown Calgary is also available to Banff and Lake Louise, as are shuttle services through tour operators.
When to go: Open year-round, Banff offers amazing wildlife viewing and sightseeing, plus plentiful shopping and dining options, any time of the year. Summer is popular for hiking, paddling, mountain biking and cycling, photography, and climbing. The best time for viewing seasonal color is fall, when the larch trees—the only coniferous trees to lose their needles in winter—turn yellow.
In winter, the mountain landscape makes for incredible downhill and cross-country skiing. In fact, three major downhill ski resorts operate within the park. Lake Louise Ski Resort, Sunshine Village, and Mount Norquay combine to offer a large skiable terrain, not to mention the backcountry trails available throughout the park. The ski season, which runs from November to May, is one of the longest in North America. Visitors can also enjoy wildlife tours, ice walks, snowshoeing, and dogsled and horse sleigh rides.
Get around: Visiting the park by car or tour bus is most common. In the town of Banff you can also catch the ROAM bus, a publicly accessible and environmentally friendly hybrid outfitted with wildlife information. Pick up a map or bus schedule at the Banff or Lake Louise visitor information centers. GPS guides are also available.
Where to stay: Iconic national park lodging at a classic location, Château Lake Louise offers restaurants, bars, a spa, and kids' camp. Baker Creek Mountain Resort holds log cabins along the Bow River south of Lake Louise with bikes and fishing rods to rent. Banff Springs Hotel is a historic national park property founded in 1888.