The Kesaria Stupa, dedicated to Lord Buddha has great significance and it is located in tranquil surroundings in the town of Kesaria in the East Champaran district of the state of Bihar, eastern India. This remarkable structure was discovered by the Archaeological Survey of India (ASI) in 1998.
In the time of the Buddha, it was known as Kessaputta. Lord Buddha is said to have made several announcements from here, which later formed part of the Jataka tales.
History
As per legends, the Buddha left Vaishali for Kusinara (Kushinagar) in the last year of His life. As He proceeded on His journey, a large group of Licchivis, who are the people of Vaishali, joined Him and declined to leave. When they reached Kessaputta (Kesaria), the Buddha persuaded them to leave. The crowd was unhappy, so just to cheer them up gave His begging bowl. The stupa is therefore said to have been built by the Licchivis to venerate the end life of Lord Buddha.
This is also the place where Buddha presented arguably his most revered discourse of Kalama Sutta, which revolves around the acceptance of his teachings only after observation, reflection and careful scrutiny.
The original Kesaria stupa in all probability dates to the time of Ashoka The Great (circa 250 BCE), because the remains of a capital of a Pillar of Ashoka were discovered there. The Present structure is believed to date back to somewhere between 200 AD and 750 AD. It is said that the monument was built on the remains of an earlier site.
This stupa was visited by both Fa-hien as well as Hieun Tsang. Both these Chinese travellers left brief details of their visiting experience to this stupa. Faxian (or Fah sien), a 5th century A.D Chinese Buddhist monk, in his travels, mentioned a stupa which was built over Buddha's alms bowl by Licchavis of Vaishali. It is now believed the stupa that was referred to in none other than Kesaria stupa. Another important Buddhist monk, Hsuan-tsang, also mentioned the stupa in his travels, but gave no details.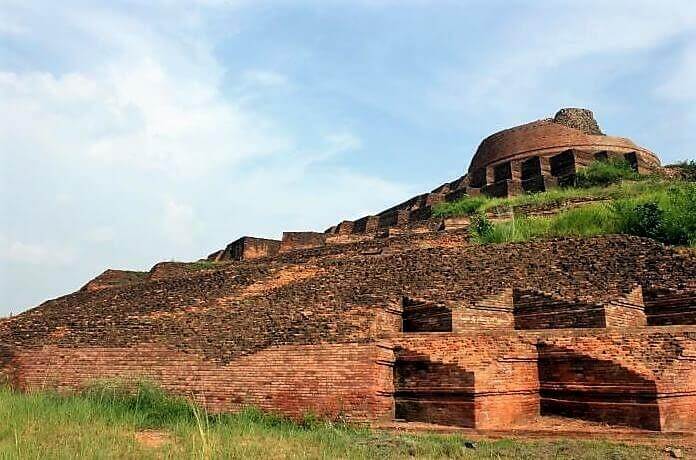 Second tallest buddhist stupa in the world
At 104 ft (32m), Kesaria Stupa has the distinction of being the second tallest excavated stūpa in the world. The Kesaria stupa has a circumference of almost 1,400 ft (430 m). Borobudur stupa (114 ft) in Java, a UNESCO world heritage site is tallest Stupa in the world.
According to the ASI, the original height of the stupa was 150 ft. However, continuous erosion reduced it to 123 ft. But that was not all that the stupa suffered. The devastating earthquake of 1934, which rocked North Bihar, further reduced it to the height we see today.
Above the 1400 feet circumference pedestal are five uniquely shaped terraces that form a gargantuan Buddhist tantric mandala. Each terrace has a number of niches containing disfigured Buddha statues, which were destroyed during attacks by Muslim invaders in the Middle Ages.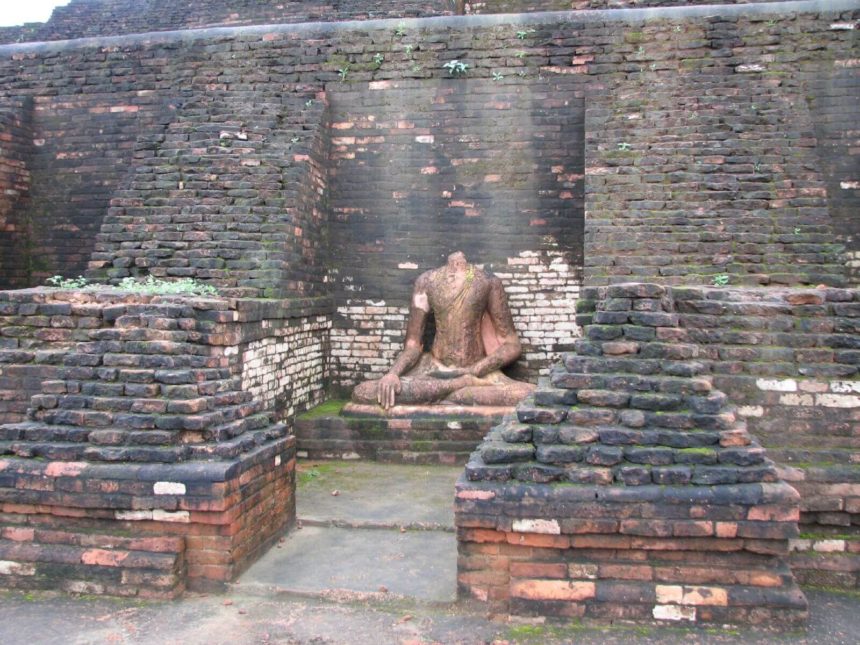 Rediscovery of Kesaria Stupa
The site's exploration reportedly started in the early 19th century, from its discovery led by Colonel Mackenzie in 1814, to General Cunningham's proper excavation in 1861-62. It was in 1998 when Archaeological Survey of India (ASI) initiated a systematic excavation, revealing the gigantic structure we see today.
The excavation has led to finding of numerous objects such as coins, arrow heads, copper and terracotta items, earthen lamps, decorated bricks, some partly destroyed idols, artifacts, and inscriptions, etc.
The ASI has declared the stupa a protected monument of national importance. But despite being a popular tourist attraction, Kesaria is yet to be developed and a large part of the stupa still remained under vegetation. There are many things still to be unearthed from the Stupa and the nearby places, which will throw more light on the life and tradition of that age. It is claimed that another five floors are yet to be unearthed. Whether that will be done any time soon is anybody's guess.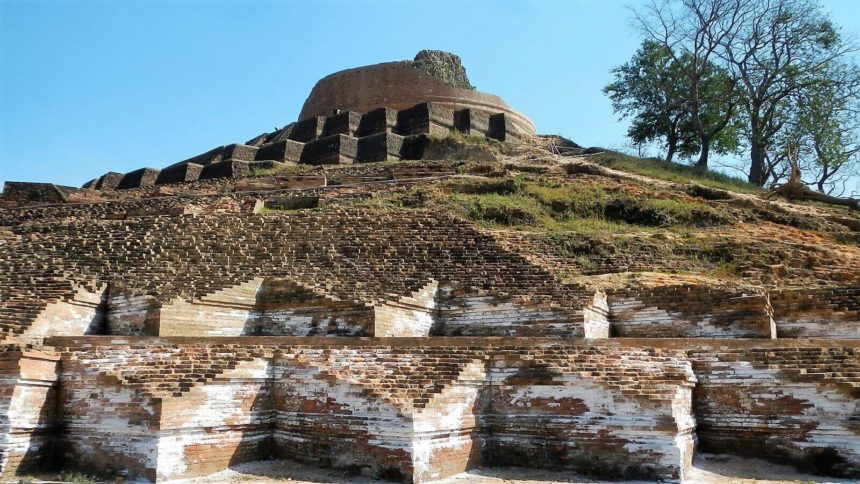 Best Time To Visit Kesaria
The region around Kesaria experiences a hot climate during the summer season. Hence, the best time to visit Kesaria is from October until the end of March. However, Kesaria Stupa remains crowded with local tourists and history lovers throughout the year.
How To Reach Kesaria
The nearest airport from Kesaria is at Patna at a distance of about 120 km and there are no direct trains available to Kesaria. Hence, you can catch a train to Chakia railway station, which is located at a distance of around 20 km. The region of Kesaria is well connected to nearby cities and towns and is easily accessible by road.