According to a statement released by Macquarie University, an ancient artefacts dating back 3,300 years have been unearthed by archaeologists at a long-lost city believed to be linked to King David.
A rare 'smiting god' figurine, a bronze calf figurine, two seals and decorated Canaanite and Philistine pottery from the 12th Century BCE were discovered at Khirbet el-Rai in Israel by a team of 32 Macquarie University students and three high school teachers during a three-week excavation in February.
The students, from Macquarie University's Ancient Israel Program, have been excavating the 1.7 hectare site in partnership with The Hebrew University of Jerusalem and the Israel Antiquities Authority.
The Macquarie archaeology students were delighted when they unearthed the bronze figure of the Canaanite god Baal, poised to smite his enemies, and a small bronze calf, bringing images to mind of the biblical 'golden calf'.
"When we go on an archaeological excavation, we have high hopes and low expectations but of course it's wonderful when we make exciting finds," said Dr Gil Davis, Director of the Ancient Israel Program at Macquarie University.
"We dream of making discoveries that will change our understanding of a significant part of the ancient past."
In order to write the history you need to understand it from your own perspective, actually see it for yourself and experience it yourself.
Dig co-director Professor Yossi Garfinkel, Head of the Institute of Archaeology at The Hebrew University of Jerusalem, says the partnership with Macquarie University has enabled them to excavate on a much larger-scale than usual. "Most of the discoveries at this site are thanks to the cooperation of Macquarie University."
For three weeks from 26 January to 13 February 2020, the team worked in the warm winter sun to dig, sift and discard bucket-loads of soil to unearth these artefacts at two different locations on the site.
It follows the team's groundbreaking claim that this site was once the ancient Philistine city of Ziklag mentioned in the Bible's Book of Samuel.
Lost city found
According to the Bible, the Philistine King Achish of Gath gave Ziklag to David — renowned for slaying the giant Goliath (1 Samuel 17) —while he was fleeing King Saul. Later, after Saul's death, David became king in Hebron and Ziklag remained in the hands of his nascent kingdom of Judah.
The city's true whereabouts have remained unknown for centuries, until now.
The team's excavations have revealed layers from the 12th–10th Centuries BCE, which covers the city's Canaanite foundation and rule by the Philistines as well as the Israelite Kingdom of Judah. They have also found evidence of a fierce fire, burnt mud bricks, white ash, burnt wood and numerous destroyed ceramic vessels – which coincides with the biblical account of the city being raided by the Amalekites.
Scholars have been divided over the location of Ziklag, with as many as 12 potential sites put forward as contenders. But Garfinkel and co-director Dr Kyle Keimer, Senior Lecturer in the Archaeology of Ancient Israel at Macquarie University, say the assembled evidence gives Khirbet el-Rai a strong claim to be the lost biblical city.
"Our site is chronologically the right time period and as we've excavated and discovered how significant this site was from a political and economic and geographical stance, we sought to identify it with a biblical site," explains Keimer.
"I wholeheartedly think that it's a very feasible explanation, particularly in comparison to the other sites which have been proposed, all of which have one issue or another with them whether it be chronological, archaeological or geographical."
The site has yielded a wealth of artefacts including rich finds of Canaanite pottery, vessels used to store oil and wine, a stash of flint 'blanks' used for sickle blades, inscriptions, oil lamps, a portable shrine and even a large bronze spearhead.
The team has uncovered a series of superimposed monumental buildings as well as multiple domestic buildings. The earliest of the monumental buildings was destroyed, preserving a room full of burnt bones and cultic objects, some of which find their origins in Cyprus. The architecture and small finds indicate that a sophisticated society with international connections was in existence at that time (the Iron Age I), rather than modest scattered settlements as scholars previously thought.
The dig is also unique in that the 32 students from Macquarie's Ancient Israel Program have been given the chance to make their mark on history by gaining hands-on experience in the field. Six were specially selected as mentorees and paired with an Israeli supervisor to learn how to manage and run their own excavation square.
"It's so exciting and I've learnt so many things that I never even thought were part of archaeology," says mentoree Eva Rummery.
"In order to write the history you need to understand it from your own perspective, actually see it for yourself and experience it yourself, and that means you can not only write it so much more accurately but you can get your own feeling of what's happening. And it connects you back to the geography of the place, how the environment works, which is so important because that puts you in the life of the people who originally lived here."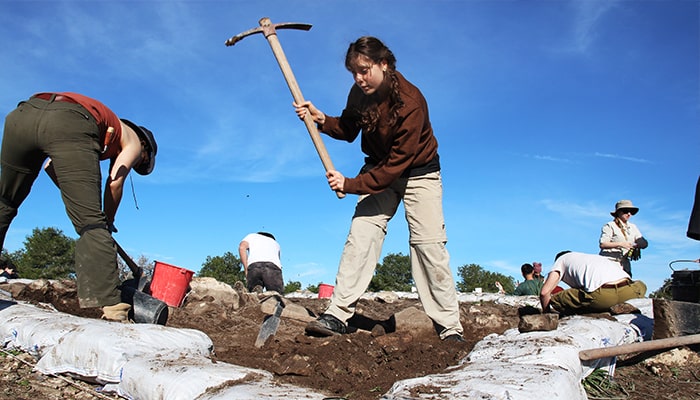 Mentoree Michaela Ryan says the dig creates opportunities for participants to pursue future study.
"I think you need to understand not just the theories and what we learn from a textbook but the actual practical experience behind it – it will help me immensely in going into postgraduate studies in the field," Michaela said.
The entire experience instills the students with an "invaluable work ethic" going forward, said Davis. "These are bright and engaged students already but the experience of working as a team, having to problem solve, having to deal with difficult conditions, having to relate to different cultures and languages changes them, and after the dig their motivation and their grades are enhanced," Davis said.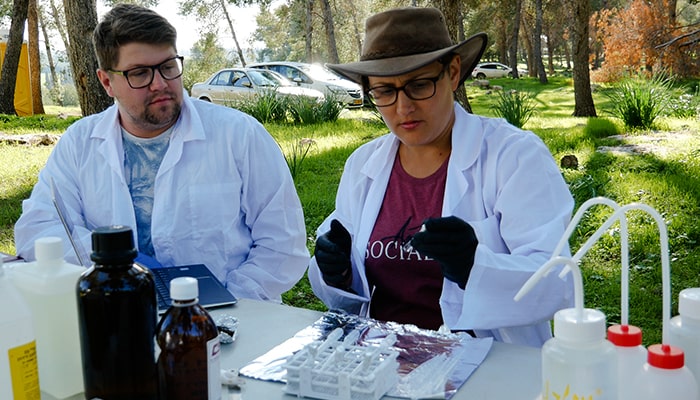 In another major innovation, the students have been trained in sampling for residue analysis using an on-site chemistry laboratory overseen by Dr Sophia Aharonovich.
They have been taught how to collect soil samples from different locations and carry out six chemical tests on each one to get immediate preliminary results in the field. These results can show whether there was human activity (such as cooking or sleeping) and organic material (such as remnants of oil and wine) in a certain location, giving a clearer understanding of what each area was used for in ancient times.
"We are bringing color, taste and smell to the dry walls and rooms we are uncovering here on the site," explains Aharonovich.
Macquarie University has been excavating at Khirbet el-Rai since 2018, with the dig funded by the Roth Families of Sydney and the on-site chemistry laboratory funded by Isaac Wakil in memory of his late wife Susan.