The Nazca Lines are a collection of giant geoglyphs—designs or motifs etched into the ground—located in the Peruvian coastal plain about 250 miles (400 kilometers) south of Lima, Peru.
Created by the ancient Nazca culture in South America, and depicting various plants, animals, and shapes, the 2,000-year-old Nazca Lines can only be fully appreciated when viewed from the air given their massive size.
Perhaps more interesting than the figures of animals and the zig-zag lines is one unusual image known as the Mandala. This image is extremely remote and sits atop an arid mountain plateau.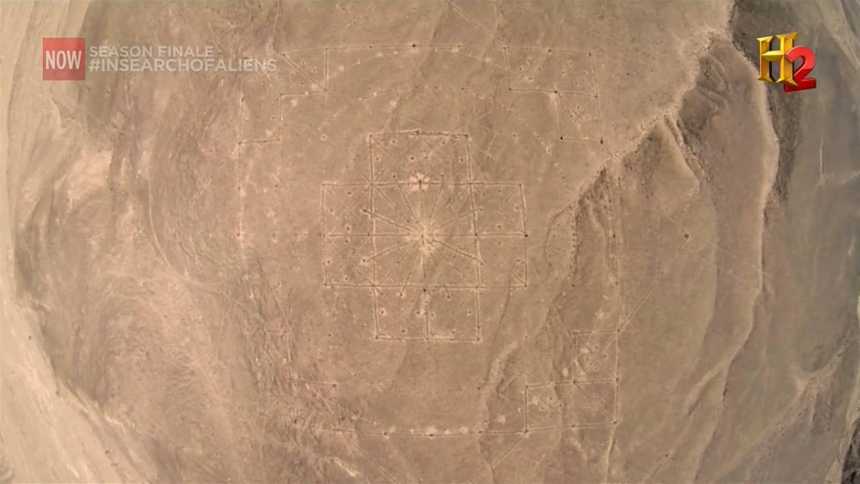 Mandalas are circular designs symbolizing the notion that life is never ending.
The Hindus were one of the first people to use a mandala as a spiritual tool, but the mandalas most individuals are familiar with, are ones made by Buddhists.
The meaning of mandala comes from Sanskrit meaning "circle." Even though it may be dominated by squares or triangles, a mandala has a concentric structure.
The basic form of most mandalas is a square with four gates containing a circle with a center point. Each gate is in the general shape of a T. Mandalas often exhibit radial balance.
The image appears to have been carved with exceptional precision. A large square measures 180 feet across while an inner circle spans the same diameter. Several smaller squares, about 20 feet wide, appear to have been etched in the landscape along with an assortment of strategically placed holes.
Mandala is a spiritual and ritual symbol in Indian religions, representing the universe. Mandala represents wholeness, a cosmic diagram reminding us of our relation to infinity, extending beyond and within our bodies and minds.
Despite being studied for over 80 years, the geoglyphs—which were designated a UNESCO World Heritage Site in 1994—are still a mystery to researchers.