The Five Rathas or Pancha Rathas are five monolithic temple structures built by the Pallavas in early 7th century AD. Situated in a common complex to west of the Shore temple in Mahabalipuram, the Pancha Rathas display exquisite carvings carved out from a single large boulder.
They are named after the Pandavas Yudhisthira, Arjuna, Bhima, Nakul, Sahadeva and their wife Draupadi. However as the names might suggest, the temples are not related to the Pandavas of Mahabharata fame but, unfinished masterpieces of the Pallava dynasty.
Based on the amazing ornamentation and sculptures however, it can be safely assumed that they were supposed to be temples dedicated to Lord Shiva, Vishnu, Indra and Durga.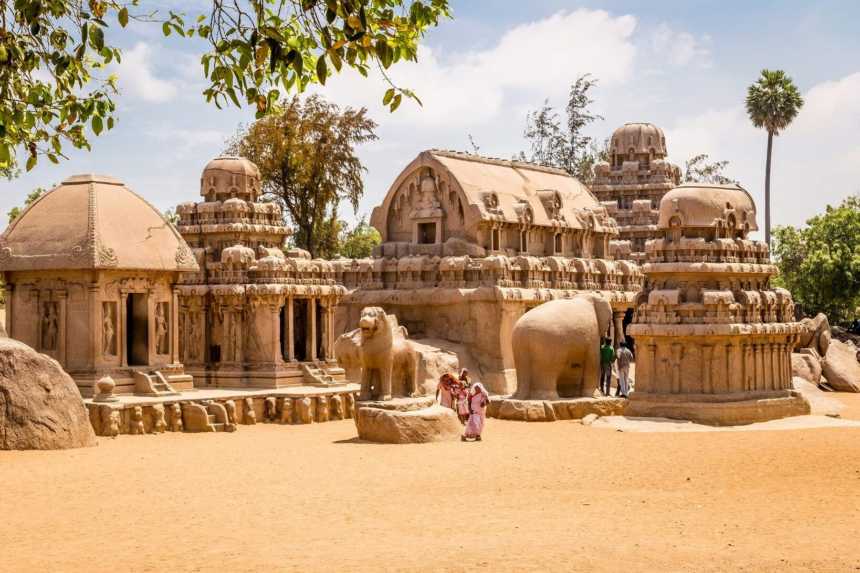 The construction of the Rathas is believed to have been started by King Mahendravarman I of the Pallava dynasty. It was continued by his son Narasimhavarman I in early 7th century AD. The temple were however left incomplete after the Narasimhavarman I's death.
Pancha Rathas though belong to the very rare examples where whole buildings with ornate exterior and interior are cut from live cliff. The incredibly skilled Indian stonecutters here used a ridge of pink granite and, by removing the "spare" cliff, created a five structures – rathas – and three large monolithic sculptures among these structures.
The group of rathas were executed as models of South Indian temples and were not consecrated or blessed, hence were not used for worship.
These monoliths of Mahabalipuram were declared a part of the UNESCO World Heritage Sites in 1984. The temples are shaped like Rathas or temple chariots with an exception that, there are no wheels. They are an excellent example of art from the Pallava times.
These low-lying rock temples were influenced by Buddhist architecture as they were built in the same shape as pagodas, and greatly resemble the Buddhist vihara (monastery) and chaitya (temple hall). Their architecture most likely is much influenced by the architecture of wooden structures.
Draupadi Ratha
The Draupadi Ratha is the smallest of Pancha Rathas. This shrine is shaped like a thatched hut, with a square roof. It is devoted to goddess Durga and has amazing artwork. The fine carved panel, which shows Durga on a lotus pedestal is marvelous. Outside, above the entrance door, is carved a sea-monster. The most interesting sculpture is Devi Durga standing on a head of the demon Mahishasura.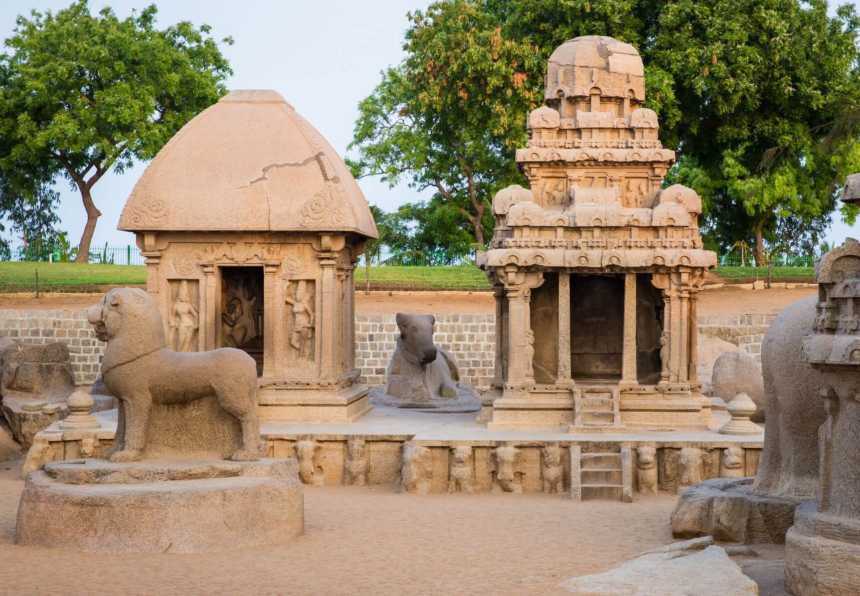 Arjuna Ratha
This small structure is shaped like a small wooden shrine, once characteristic for Southern India. It is facing towards the east and has two storeys, a small portico and carved pillars. There are no carvings inside this temple, but many other gods, including the Vedic Indra, are depicted on the outer walls. The facade is adorned with magnificent sculptures, showing gods and humans. Noticeable is a pair of beautiful apsaras with lissom bodies.
Nakula Sahadeva Ratha
This shrine is devoted to Indra and is associated with elephants. This ratha is the only one which is not placed in a "procession", it stands aside. The roof of this shrine is also shaped like a back of elephant. The relief sculpture of Ardhanariswara adorns the walls whereas columns and pillars are decorated with seated lions. The life-sized image is regarded as one of the most perfectly sculptured elephants in India.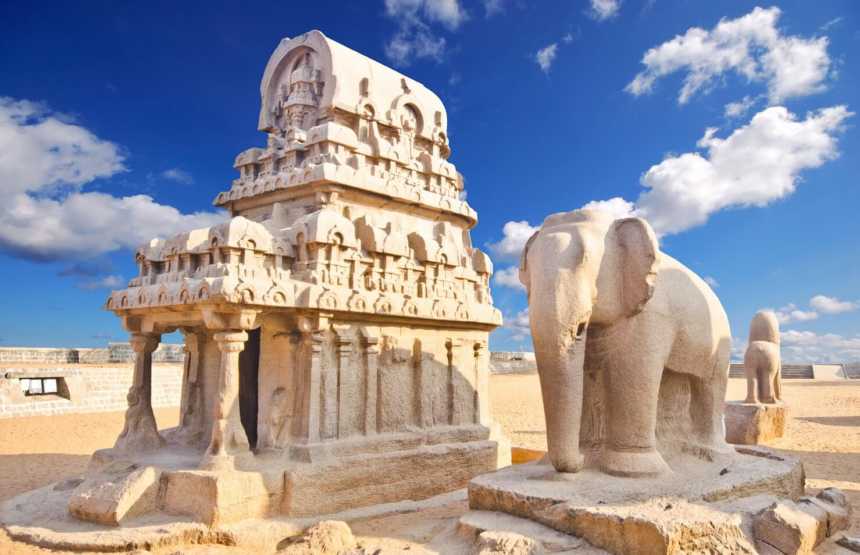 Bhima Ratha
The longest of Five Rathas, the 12.8 m long, 7.3 m wide, 7.6 m high structure is built in Gopura style with gabled roof. It is said to be devoted to Anantshayi Vishnu as a large bas relief of Vishnu in the form of Sayanamurti is located inside. The building remains unfinished but fascinating. The sanctuary has a circumambulatory passage around it. Pillars of the shrine are adorned with figures of lions.
Dharmaraja Ratha (Yudhisthir's Ratha)
Shaped like a characteristic vimana (tower above the shrine) of Southern India of its times, Dharmaraja Ratha it the most magnificent and tallest of the Five rathas, with three storeys, though most of it remains incomplete.
The shrine is devoted to Shiva and is adorned with one of the best examples of early Pallava art. Very beautiful are the Shiva figures on the corners of structure. Dharmaraja Ratha contains engravings in Pallava Grantha script of the titles of Narasimhavarman I. Inscription mentions that this was created as Shiva temple of Atyantakama Pallava. Especially fascinating is the sculpture of Lord Shiva in the form of Ardhanariswarar which is half man, half women.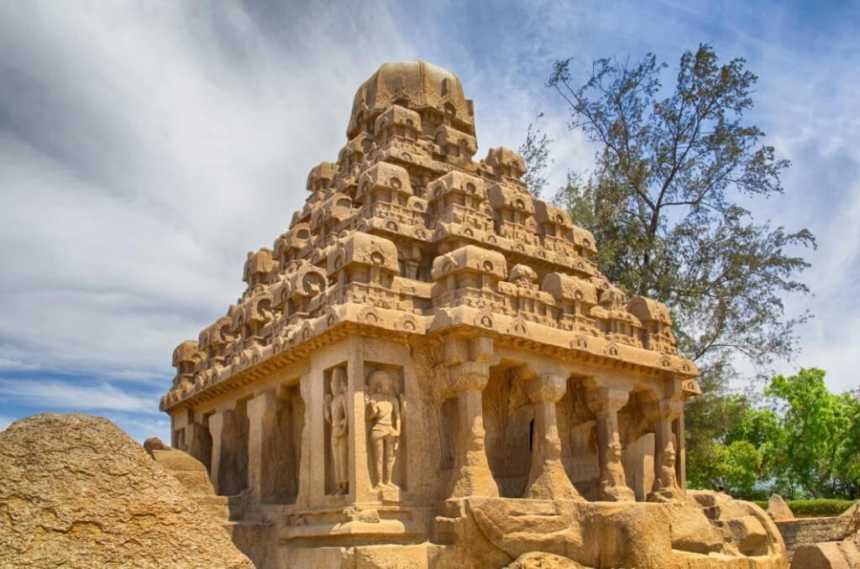 How to reach?
You can avail private/public buses from many cities of Tamil Nadu, Chennai and Chengalpattu to reach this place. Also, Chennai is well-connected by air and rail to many Indian and international cities; therefore, reaching this place will not be much of a hassle.
Timing: Daily from 6 AM to 6 PM