A paradisiacal archipelago in the glistening Indian Ocean, the Seychelles is truly the stuff of dreams. More than a hundred islands make up the Seychelles archipelago, but the vast majority of them are completely uninhabited.
Located off the coast of East Africa, it is one of those isolated, dreamy locations one often sees in movies. The white sand beaches and turquoise waters surrounded by forest-clad mountains makes it every travellers dream.
There are three Main or Public Islands in the Seychelles: Mahe, Praslin and La Digue. All offer wonderful beach experiences with a wide range of activities. The next seven islands are all within a pretty easy reach from Praslin and you will find plenty of local companies offering to bring you there.
Mahe Island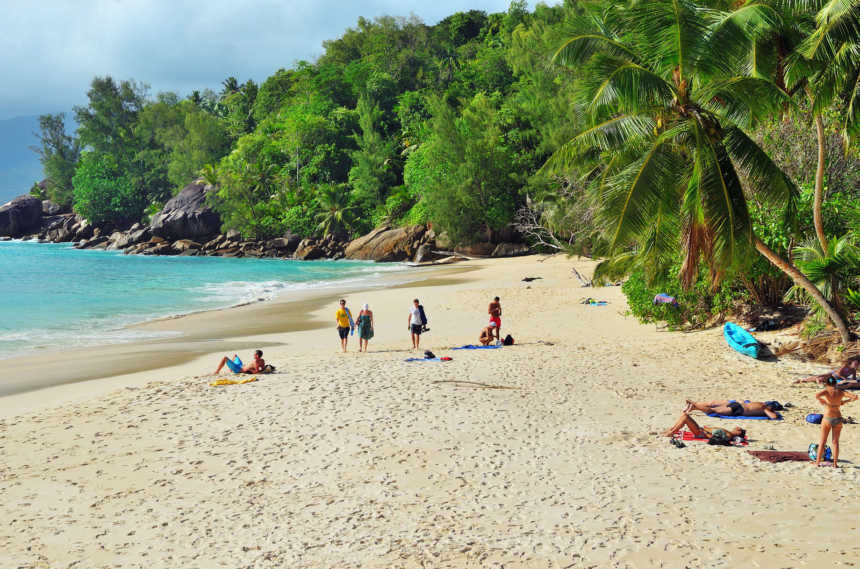 The largest of the Seychelles islands, Mahé is also its busiest and most developed. And when we say large, we're not saying that this is where you can get lost for days – you can actually drive around Mahé in just two and a half hours. Over 90% of the country's entire population lives here, and it's home to the only international airport in the archipelago.
All holidays in the Seychelles begin in Mahe, where you can take connecting flights or boats to other islands. Mahe is also a holiday destination in itself, with 75 sandy beaches, lively resorts like Beau Vallon and the capital city Victoria, which is filled with creole history.
Beyond the gorgeous granite-fringed beaches, an absolute must-see here is the spectacular Morne Seychellois National Park. Covering over 20% of the entire island, this mass of thick emerald forest and hidden walking trails is where you'll discover towering peaks that taper down to unspoilt hidden bays.
Praslin Island
Praslin has some of the Seychelles' most picturesque beaches, with iconic white sands lapped by topaz waters and laced with granite boulders. Some of the most famous include Anse Georgette and Anse Lazio, which often appears on lists of the world's best beaches. Praslin is best known for its National Park, which encompasses the Vallee de Mai Nature Reserve, a 45-acre UNESCO World Heritage Site home to rare Coco de Mer trees. These produce the largest seed and palm flowers in the world.
Aside from the color of the sand and the water, both of which are recurring themes throughout the country, a big draw here is that there are zero rocks anywhere on the beach; there's not even coral, just soft naked sand you can wade out in barefoot without ever having to worry about stepping on anything.
La Digue Island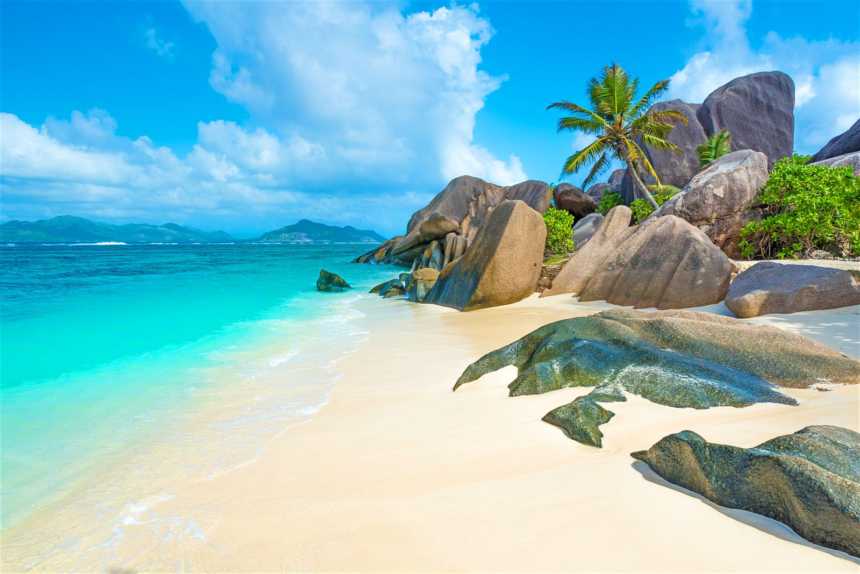 There's really nowhere else quite like La Digue. Sleepy and relaxed with a slow pace of life, it's an undeveloped paradise – you could even say it's almost undiscovered. There's a definite feel of going back to nature here; the island has managed to avoid the typical tourist development of the other islands, so there's virtually no cars and only a handful of surfaced roads. While walkable in an hour, the best way to get around is by bicycle or traditional oxcart.
The third-largest island in the Seychelles, La Digue has one of the most-photographed beaches on the planet: Anse Source d'Argent. The beach lies on the west coast of the island and is lined with huge, distinctive granite boulders. Visit the Veuve Nature Reserve on La Digue, which is a key breeding ground for the Seychelles Paradise Flycatcher bird.
Denis Island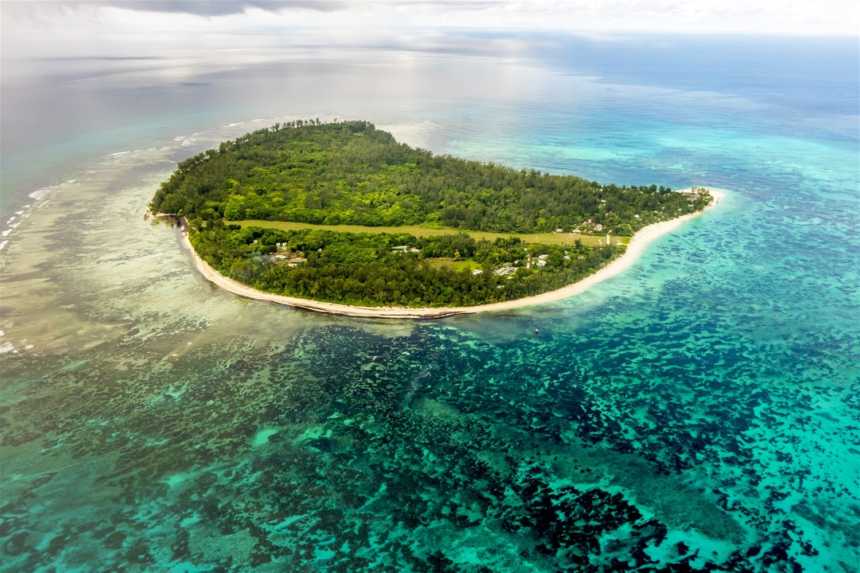 Denis Island lies north of Mahe and is a favourite for honeymoon couples due to its distant, Castaway vibe. The coral island has trails through dense forest, a 100-year-old lighthouse, natural lagoons and some of the Seychelles' top diving and snorkelling spots nearby.
The cuisine is out of this world, while diving and fishing are excellent as well. The whole ethos of the island is about sustainability and guests are positively encouraged to discover more about it.
The only accommodation is Denis Private Island Resort, which has 25 cottages scattered along the beach, built from local materials that blend into nature. Relish sea-view verandas, in-room massages, a beach restaurant and free bikes to explore.
Bird Island
Living up to its name, Bird Island is home to over 20 species of rare birds. These include Common Noddies and Fairy Terns who live in the island's casuarina groves. Between May and October, around 700,000 pairs of Sooty Terns nest here on the northernmost island in the Seychelles.
Bird Island is popular with Hawksbill and Green Turtles, as well as the world's largest giant tortoise, Esmeralda, who weighs around 300 kilograms. Stay at Bird Island Lodge in one of 24 creole-style cottages with ocean-view verandas, open-air restaurant and water sports.
North Island
North Island was royal couple William and Kate's honeymoon destination. This tiny slither of remote paradise is just two kilometres squared and only accessible by helicopter, offering ultimate privacy. Relax on deserted beaches under the shade of palm trees, enjoying silky pale sands and views of the island's forested peaks.
There are just 11 handcrafted villas on North Island nestled in the trees just steps from the ocean, all made from natural materials. The resort also has a sunset bar, spa, restaurants and diving and snorkelling services.
Desroches Island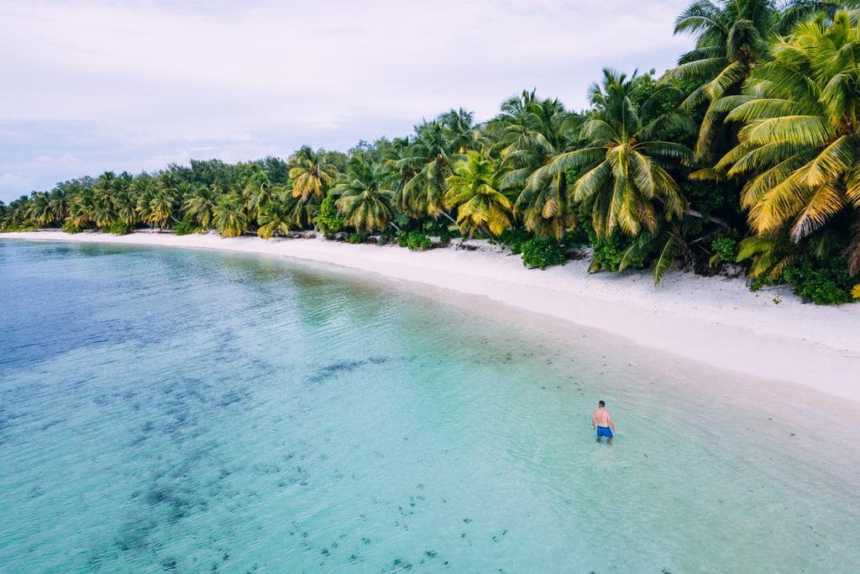 Desroches is one of the Amirante Islands, set around 230 kilometres from Mahe, and one of the only outer islands you can stay on in the Seychelles. If you're looking for a true desert island experience, then this is it. Four Seasons Resort at Desroches Island provides 71 villas, suites, bungalows and residences with private pools and beach access.
There's also a spa, restaurants and bars and even a kids' club. Spend your time chilling out, snorkelling and visit Desroches' Tortoise Sanctuary to see the giant Aldabra tortoise.
Silhouette Island
Silhouette Island is home to the Hilton Seychelles Labriz Resort & Spa, a five-star resort, as well as incense trees, 125 year old giant tortoises and an abundance of other rare plants and animals. The island has been a marine national park since 1987. Over 92 percent of the island has been designated a protected area.
The island has a mountainous interior filled with 500 metres of virgin rainforest ideal for hiking and there are spectacular views from the 751-metre peak of Mount Dauban. Silhouette's only settlement is the village of La Passe, on the island's western coast. The island has well maintained trails, allowing visitors to explore beaches and some of the rainforest.
Curieuse Island
Just a few hundred metres separates the three square kilometre island of Curieuse from Praslin, with just a singular islet located between the two land masses. Curieuse is a bio-reserve that is managed by the Marine Parks Authority of the Seychelles Centre for Marine Technology. Curieuse Island has not been developed for tourism or industry and is a protected island today. There are no hotels or restaurants on the island.
This pristine habitat is full of white beaches, palm trees and granite rocks which form the backdrop to a dreamlike landscape. Curieuse is home to a significant collection of Seychelles' endemic species, from giant tortoises introduced from Aldabra and endemic birds, to the worlds biggest nut, the legendary coco de mer.
It is home to a colony of about 500 Aldabra giant tortoises – the only place in the world where these extraordinary animals roam in total freedom.
Fregate Island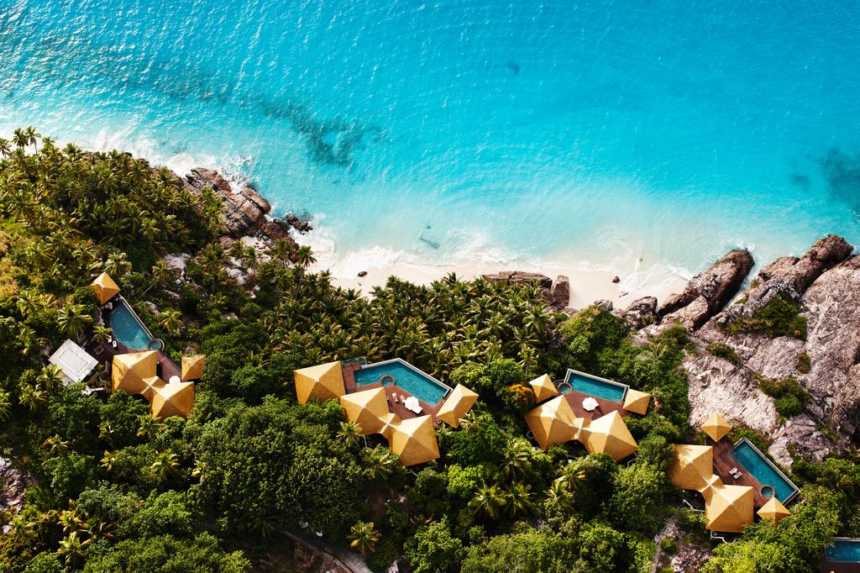 Fregate Island is a piece of heaven in Seychelles. The easternmost island of the nation, the scintillating island is located 55 km east of Mahe. Also called Fregate Island Private, it was discovered by Lazare Picault (an explorer) who named it Fregate in 1744 owing to the abundance of frigate birds found here.
The natives of the enchanting island have worked hard to restore and maintain the natural charm and beauty of this place along with saving the natural flora and fauna. And the result is, the wildlife is restored making it a vacation-land in the midst of the wild.
Getting between the islands by boat
It's possible to hop between the main islands in the Seychelles by plane or helicopter. It's also possible to island hop around the Seychelles by ferry and fast boat, which is a cheaper option. The main boat companies that operate in the country are Seyferry, Cat Cocos and the Inter Island Ferry Services.
On-island transport in the Seychelles
There are taxi and car hire services on many of the inner islands in the Seychelles, but prices may be high and roads can be windy and difficult to navigate. Most resorts will provide transfers around the islands for sightseeing and activities, it's also fun to explore on foot or by bicycle. Look out for scooter hire if you're confident about riding one, or take advantage of the cheap round-island bus services on Praslin and Mahe.