Among the wettest regions on Earth, Meghalaya's lush forests, pine-clad hills and magnificent waterfalls make it a spectacular destination for a peaceful holiday away from the hustle and bustle of city life. This is the land of the Garo, Khasi and Jaintia tribes, with distinct cultural identities and lifestyles, indigenous belief systems and a deep, enduring love and reverence for nature.
Historians say that when the erstwhile tribal kingdoms were annexed by the British, the Khasi capital of Shillong was made the new capital of Assam as well as the headquarters of the entire northeastern region in 1874.
The temperate climate, on account of its location at an altitude of approximately 1,500 m above sea level, made it the preferred city in the Northeast for British officials. It is said that the rolling hills and the profusion of lakes reminded them of Scotland. Even today, Shillong is home to Raj-era relics such as Tudor style buildings, colonial cottages, a polo ground, a golf course and several exquisite churches.
In 1904, the city was divided into a set of wards, and the European Ward was set near Ward's Lake, which is today Shillong's recreational heart – it boasts well laid-out gardens, a gorgeous lakeside promenade, ornamental bridges and boating facilities. A short distance away, Lady Hydari Park has a mini-zoo where you can admire indigenous fauna and visit the forest museum to learn about local pines. Not too far from this garden are a number of colonial structures, including government buildings and hotels.
The Tripura Castle is another must-visit: it is believed to have been built in the 1920s by Maharaja Bir Bikram, who came to Meghalaya for military training when he was 16 years old and fell in love with Shillong. The structure is not a castle in a literal sense, but does exude the grandeur of royalty with its tiered gardens, opulent interiors and marvellous collection of orchids.
More colonial residential structures abound in areas like Oakland Road and Lumsohphoh. Ornate churches such as the All Saints' Cathedral and the Cathedral of Mary Help of Christians are also worth a visit.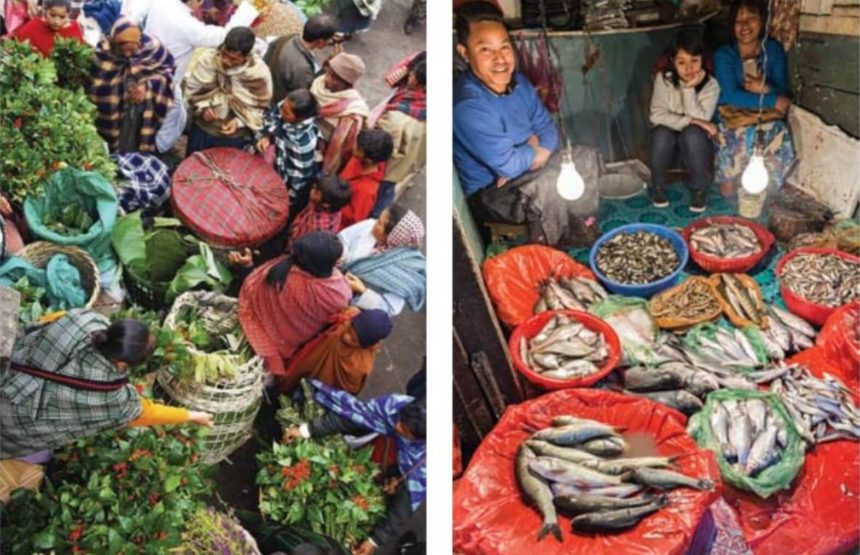 If you'd like a glimpse into the region's natural history, head to the Wankhar Memorial Museum of Entomology near Police Bazar, which has an enormous collection of butterfly and moth specimens dating back to the 1930s. To gain more insight into the region's archaeological, cultural and artistic heritage, spend an afternoon at the Meghalaya State Museum or the Don Bosco Centre for Indigenous Cultures.
For a taste of the city's local life, explore Bara Bazar, where you will find members of the local communities selling fresh produce, spices and utensils. A weekly market known locally as ieduh is especially interesting: Khasi women dressed in their traditional tunics, called jainsem, greet you with warmth at stalls selling orange honey, pineapples, dried fish, black mushrooms, betel nuts, handwoven shawls, baskets and more.
One of Meghalaya's greatest highlights, aside from its exquisite caves, are its waterfalls. Elephant Falls, located on the outskirts of Shillong, is a top draw for tourists: a mountain stream descending playfully through two successive falls makes for a stunning sight. Also on the outskirts of Shillong is Spread Eagle Falls, a cascade that resembles an eagle with its wings spread out. Many more breathtaking waterfalls await as you move farther away from the capital.
A two-hour drive will take you to Cherrapunji, the erstwhile wettest place on earth before Mawsynram, also in Meghalaya, took the title. On your way, stop by at Shillong Peak for a stunning panoramic view of the city on a clear day. The road to Cherrapunji will take you along hills shrouded in clouds before you reach the quaint hill town.
An absolute must-see here are the living root bridges, locally termed jing kieng jri – two trees have been planted on either side of a stream and the roots of both have been manually guided, over generations, to form pathways or bridges. Some of these are double-tiered structures that look straight out of an old fairytale. If you decide to drive to Mawsynram from here, more waterfalls await you, one of the most beautiful among them being the Nohkalikai Falls. Meghalaya's legendary caves are nearby too, featuring fascinating stalagmite and stalactite formations.
As you finally bid adieu to this beautiful Northeastern state, make a note of its natural splendour and cultural richness and ask yourself: who wouldn't want to come here again!