In India, the western states and certain northern regions have always seen water shortages due to the climatic and geographical conditions. Thus, one can find remnants of many early stepwells in Gujarat, Rajasthan and Delhi.
The earliest stepwells most likely date to about 550 AD, and they were simple in terms of construction. However, over time, more focus was given to its architecture and decoration.
The local term used for a stepwell varies with each region. In Hindi, it is called a 'baori' or 'baoli.' In Gujarati, a stepwell is called a 'Vav.' Here, The Mysterious India, shares the best stepwells of India.
1. Chand Baori, Abhaneri, Rajasthan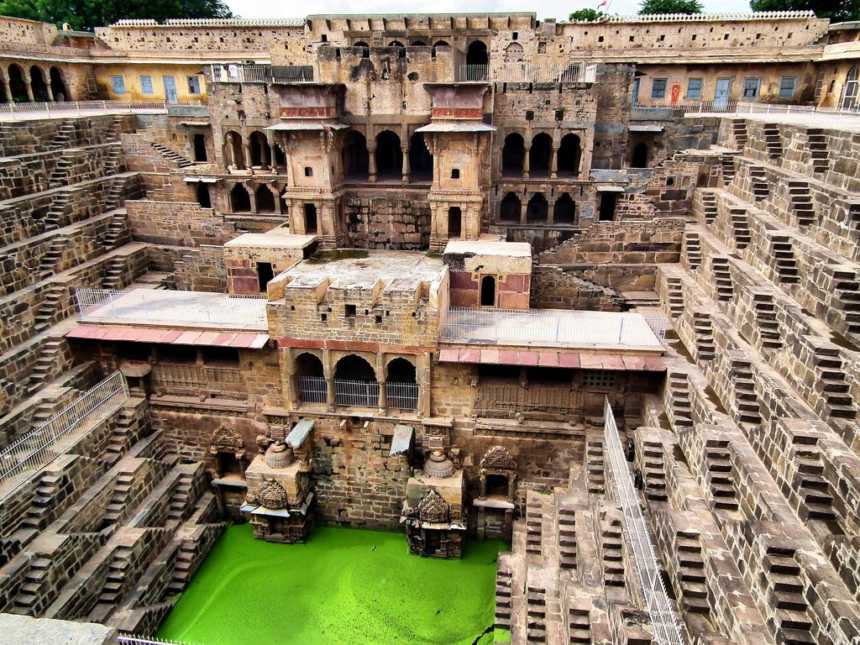 Chand Baori is one of the most visually spectacular stepwells and probably one of the largest. It is located around 90 kilometers from Jaipur (Rajasthan), in the village of Abhaneri. It was built by King Chanda of the Nikumbha Dynasty, between 800 and 900 AD. The stepwell is over 13 stories deep with 3500 steps and built opposite the Harshat Mata temple. Having gained its recognition in most of the Bollywood and Hollywood movies, this structure is today a favorite travel destination in Rajasthan.
2. Rani ki Vav, Patan, Gujarat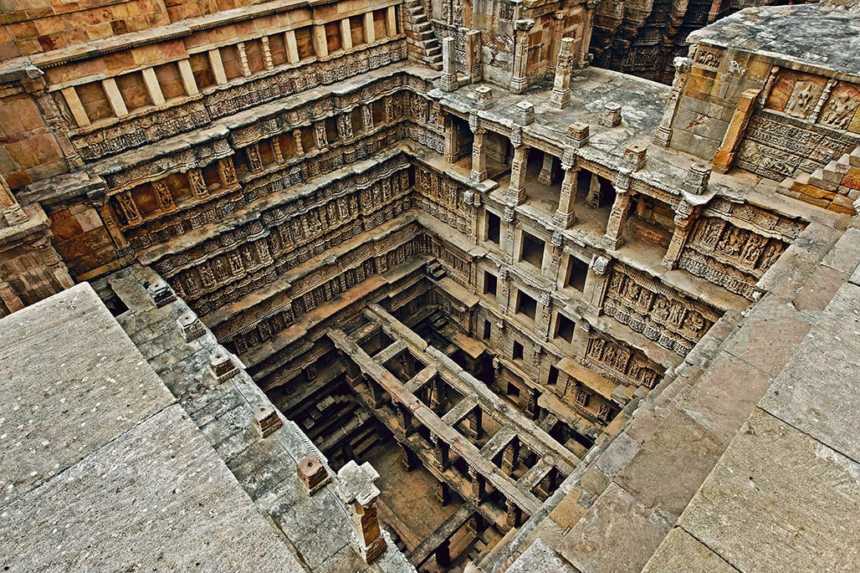 Rani ki Vav (or Queen's stepwell) is a UNESCO World Heritage Site situated in Patan, Gujarat. It is believed to be constructed in the memory of King Bhimdev by his widow, Queen Udayamati, around 1050 AD. The Rani Ki Vav is famous for its magnificent structure and unique multi-storeyed pavilions. The steps of the stepwell are quite wide and ornately carved with various gods and goddesses.
3. Hampi Pushkarini, Karnataka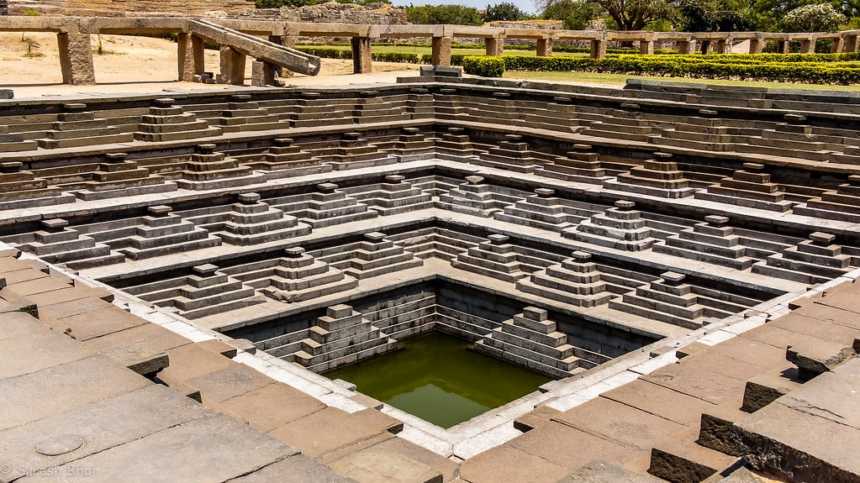 Hampi Pushkarani is a magnificent Stepwell famous for its Chalukya architecture, It was built in the 15th century. The unique feature of this stepwell is that water is filled by channel similar to the Roman architecture. The ruins of Hampi is listed in the UNESCO world's heritage sites. The tank is totally different from other structures of Hampi as the Stepped Tank is constructed using finely finished blocks of black schist stones. The stepwell is perfectly geometrical, devoid of any elaborate carvings.
4. Surya Kund, Modhera, Gujarat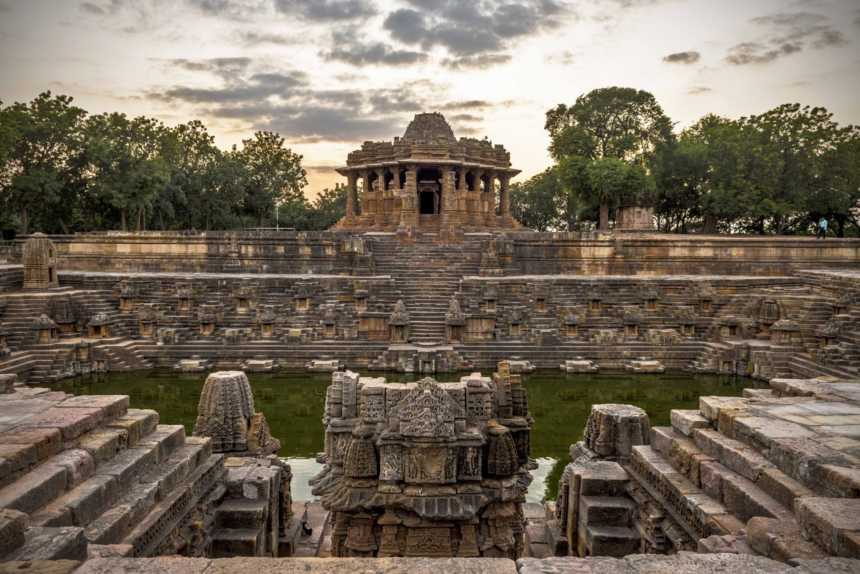 The Surya Kund is a stepwell located in the Sun Temple in Modhera, devoted to Lord Surya. The temple was built in 1026 AD by King Bhimdev on the bank of the river Pushpavati and is now under the supervision of the Archaelogical Survey of India. The stepwell is a great example of geometry. It depicts the usage of a stepwell for more than just water storage. It was used for religious ablutions before praying to the Sun God.
5. Rajon ki Baoli, New Delhi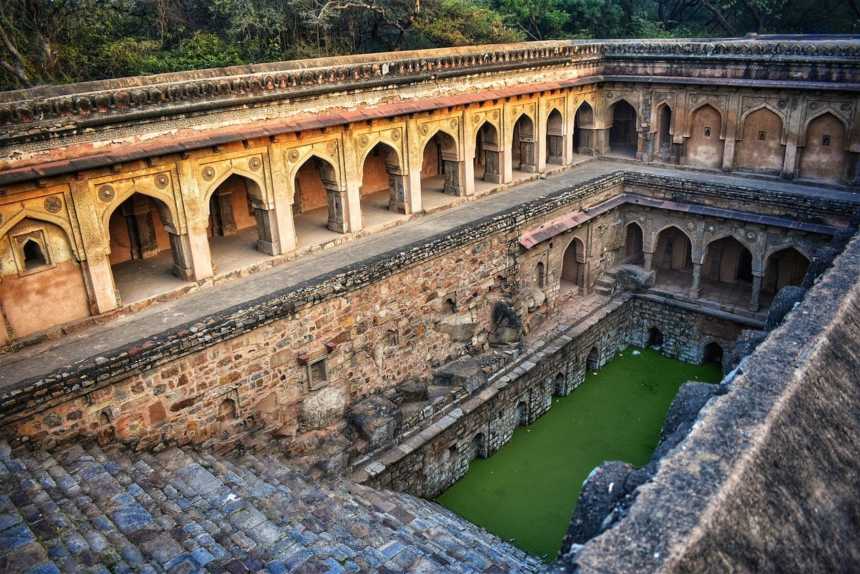 This is a famous stepwell in India, located in Mehrauli Archaeological Park with 100 historically significant monuments. The name Rajon ki Baoli is believed to be not after Kings (Raja) but masons. Supposedly built in 1516 by Daulat Khan and restored in the early 2000s, the stepwell is a grand structure both in terms of scale and architecture. There is a small mosque built right next to it.
6. Agrasen ki Baoli, New Delhi
The Agrasen Ki Baoli is a 60-meter long and 15-meter wide stepwell located near Connaught place in New Delhi. The Agrasen Ki Baoli is consist of 103 small steps and made up of red Stone. It is assumed to be built by King Agrasen and was rebuilt in the 14th century by the Agrawal community. However, more than its historical significance, the place is infamous for haunted activities as well.
7. Nagar Sagar Kund, Bundi, Rajasthan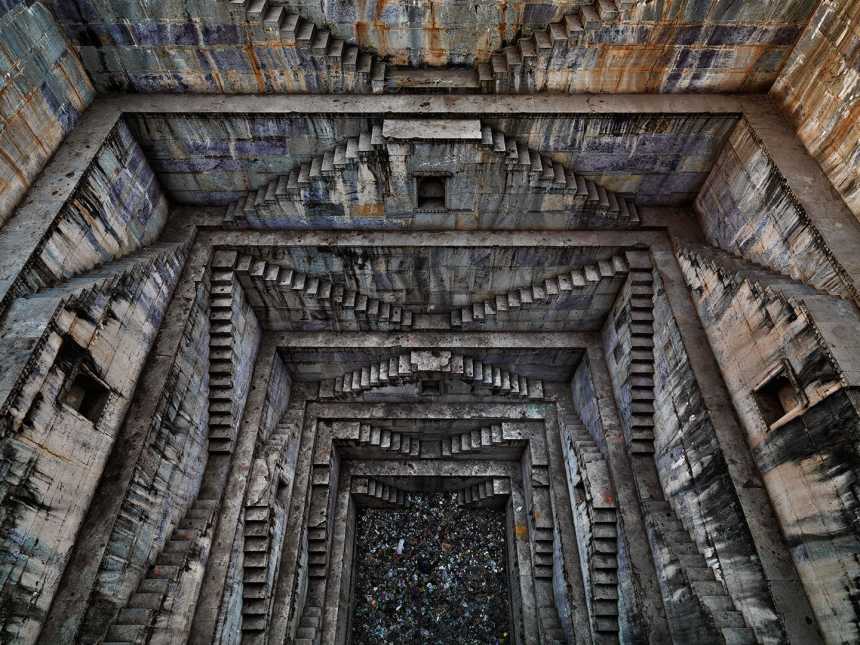 The Nagar Sagar twin stepwells are identical step wells crafted in pristine masonry next to each other quite close to Chogan Gate in the centre of Bundi. The stepwells were originally called Janana Sagar and Ganga Sagar – but are now jointly named as Nagar Sagar Kund. The stepwells were constructed by Maharani Chandrabhanu Kumari between 1871 and 1875 during the reign of Maharao Raja Ram Singh.
8. Panna Meena Ka Kund, Amer, Rajasthan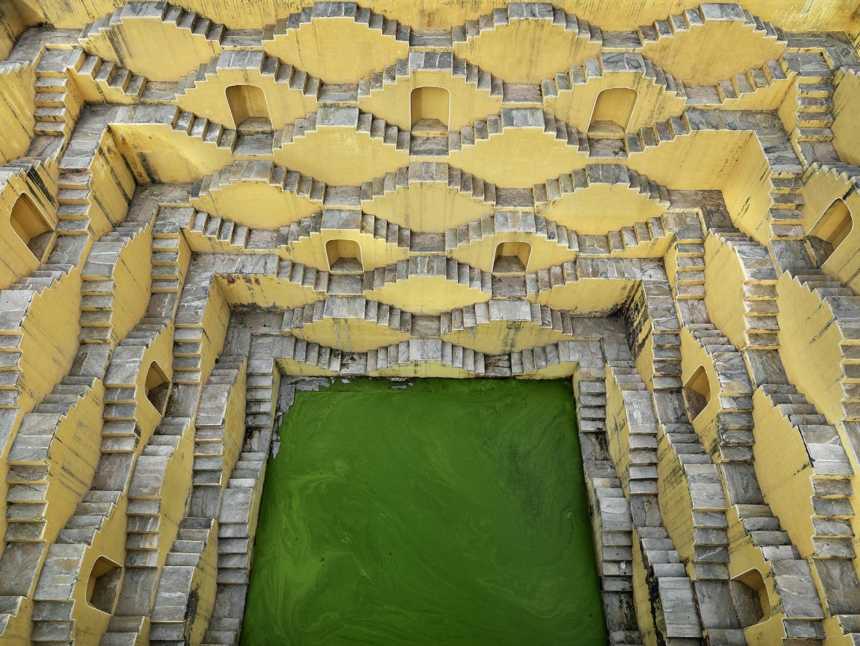 Panna Meena Ka Kund, also known as Panna Mian Ki Baoli, is an eight storey step well located on the Jaipur-Amer road. It was built in the sixteenth century, as a sort of community gathering area. A place where people could come for water, a swim, a chat with a neighbour or to relax.
9. Lakkundi Stepwell, Karnataka
Lakkundi is a small village on the way to Hampi. The village is popular for its many Chalukyan temples. It is a hidden gem which cannot be found on the tourist map, hidden from the crowds, but it is a haven for history and architecture enthusiasts. There are around 100 stepwells in Lakkundi, each unique and popular in the area for its architectural beauty.
10. Adalaj Stepwell, Ahmedabad, Gujarat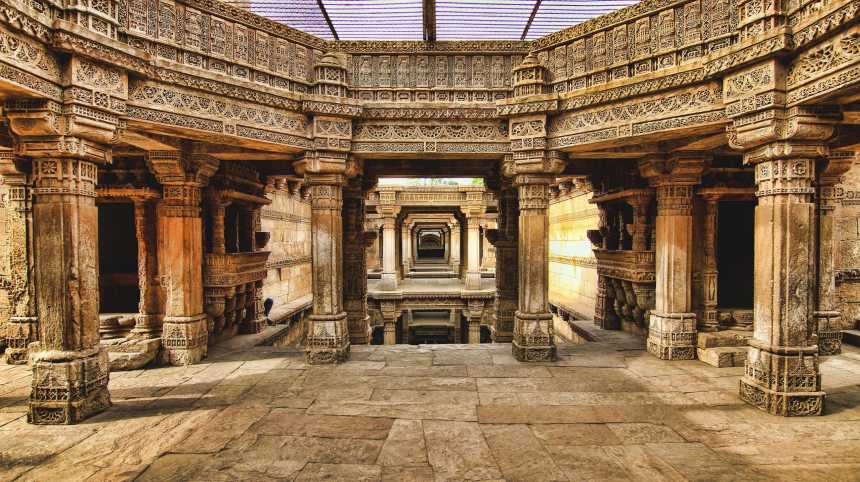 Adalaj ni Vav is another popular stepwell located in Gujarat, approximately 18 kilometers north of Ahmedabad. The walls of the stepwell tell the tragic story behind its existence. The ruler of the area, then known as Dandai Desh, started building the stepwell. But in 1499, a Muslim ruler attacked and ransacked the region, killing the king. The invading Muslim ruler also fell in love with the dead king's queen. The queen promised to marry him if he promised to finish the stepwell in honor of the dead king. The Muslim invader agreed to build a grand stepwell, with a blend of Islamic architecture and Hindu carvings. But when the well was complete, the queen jumped in and gave up her life.
11. Rani Ji Ki Baori, Bundi, Rajasthan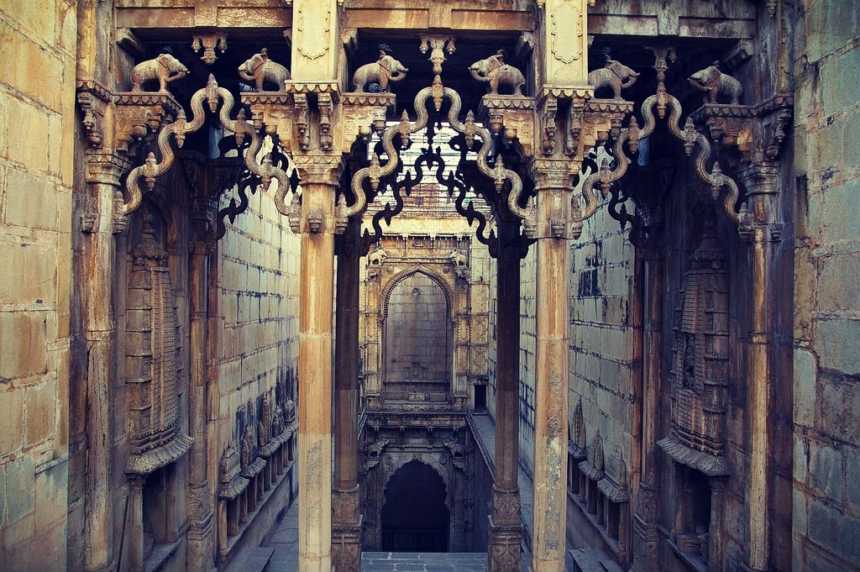 Rani ji ki Baori also means 'Queen's Stepwell,' similar to 'Rani ki Vav.' This stepwell is located in Bundi, Rajasthan. It was named so probably because it was constructed under Queen Nathavati in 1699 AD. Bundi is also popularly known as the city of stepwells. There are supposed to be around 50 tanks or Baoris in Bundi. Queen Nathwati herself is credited with building 21 of those tanks.
12. Toor Ji Ka Jhalra, Rajasthan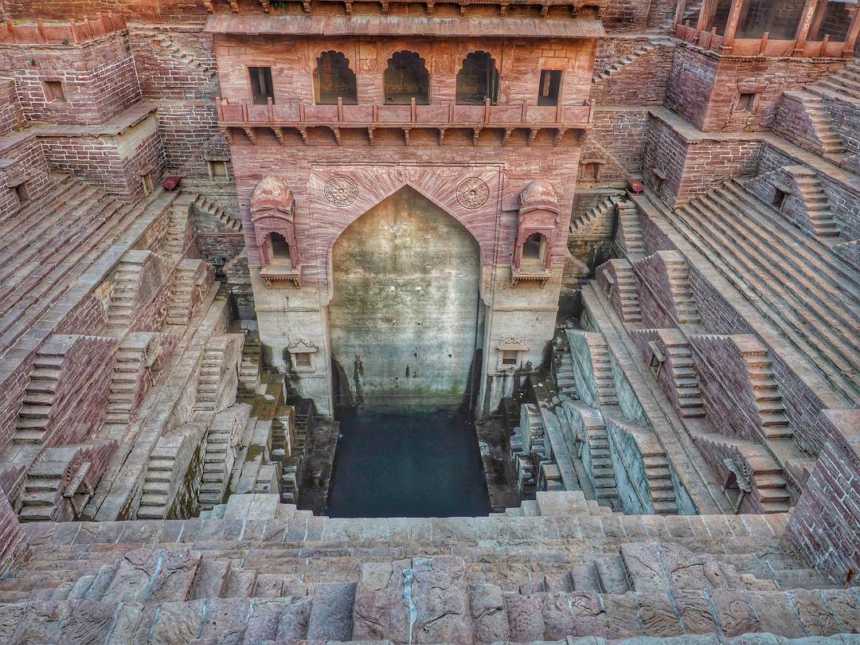 Built in 1740s, this historic structure was only recently excavated and restored. It's clean lines and clear, fish-filled water will leave you mesmerised. It's a great place to just sit and watch, but the attached cafe adds further incentive for a visit. Jodhpur has more than 100 stepwells, some hidden away in its many narrow alleys.