Fascinating Melissani Lake is one of the most beautiful sites on Kefalonia, Greece. Surrounded by dense forestry, slope down to another miracle of nature in Kefalonia's subterranean world and let your footsteps guide you to the cave of the nymphs. Beautiful waters with changing shades of blue as the sun sets, honey-like brown walls and countless stalactites will take your breath away and travel you to another, mythical and magical world.
Created by a unique geological phenomenon, this secret lake was discovered in 1951 after a cave collapsed, revealing a lagoon below. During excavations in 1962, some fascinating objects, such as oil lamps, plates and figurines, dating back to the third and fourth centuries BC, were recovered – suggesting the cave held a former sacred purpose.
The artefacts depicting Pan (the Greek god of nature) and his devoted nymphs indicate that the cave was once a place of worship. The legend goes that one of those nymphs, the heartbroken Melissani, drowned herself in the lagoon after Pan rejected her love. The cave was named in her honour, and its story added to the rich mythology of Greece.
A sparkling spectacle: the cave's optical illusion
Today, it's clear to see why this Ionian jewel held such mystic power. The water here is so clear that in a certain light, an optical illusion affects your eyes, making the boats hired by visitors look like they're floating in mid-air. By noon, the entire cave is cast in a haze of shimmering blue as the sun reaches its zenith and light is refracted onto its high walls.
Swimming is not allowed in the lagoon, which may sound disappointing, but once you witness the entire cave sparkling with its ethereal beauty, you can understand why. Nothing but light and gently lapping water disturbs the clarity of its depths. It is a truly memorable sight.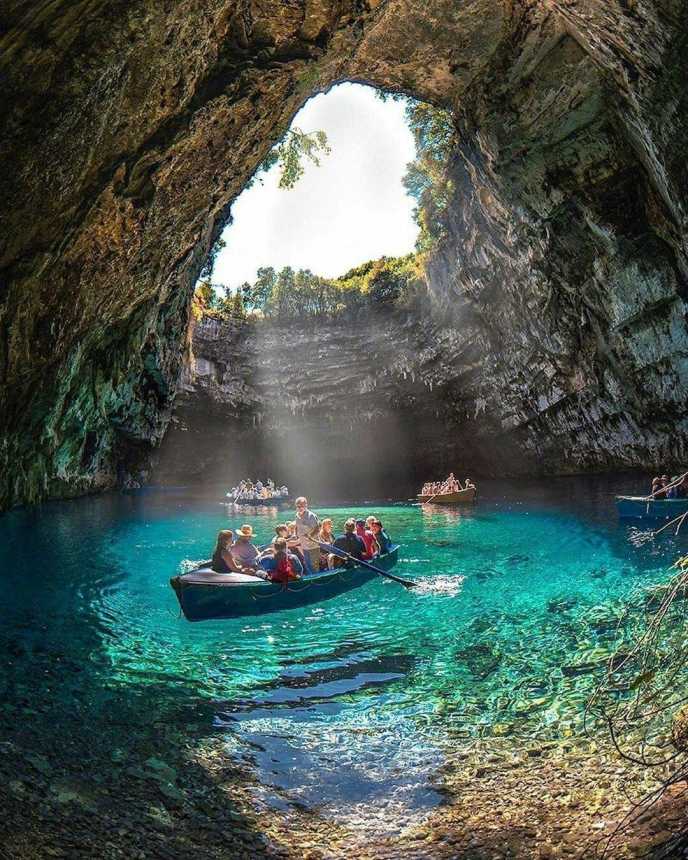 Tips for visiting Melissani Cave in Sami
The lake is accessible only via boat; visitors can easily hire one along with a guide for around €7 (£5.90) per person. After walking through an underground tunnel, you board a rowboat to enter the blue-green world of the lake. Stalactites hang overhead in the gloomy tunnel, but once you're in the lagoon, the cave opens out, with natural light pouring in from the opening surrounded by lush trees.
The most popular time to visit is between 11am and 1pm. However, the cave is at its busiest during this time, so in high season, you could end up queueing.
Anyone a little nervous about being in a confined space can still view the lake from the top, where a balcony has been constructed for a dazzling bird's-eye view.